The First Circles Engagement program is an initiative of the Chief Minister. It provides opportunities for 30 emerging Northern Territory (NT) Aboriginal leaders to engage with Cabinet on Aboriginal affairs policy matters.
The program provides pathways for leaders to emerge from remote areas, helping them to both:
become active community leaders
shape the NT's future.
What the program does
The First Circles Engagement program is an engagement model that is focused on identifying, mentoring and supporting Indigenous emerging leaders in communities.
It combines two concepts:
acknowledgement of first peoples
circles represent the collaboration between people and communities as the main driver behind improving outcomes.
The program will focus on engaging future Indigenous leaders from across the Northern Territory to bring new voices to the conversation and help build the next generation of community leaders.
Download the First Circles fact sheet (729.4 kb)
Membership
The Department of Local Government and Community Services has finalised the selection of members for 2016, with 15 members in the north and 15 for the southern region.
The selection process involved an assessment of each individual's claim against the program's terms of reference.
First Circles is a voluntary program with membership reviewed each year. Current members can seek to renew membership by mutual agreement and vacancies will be filled through expressions of interest.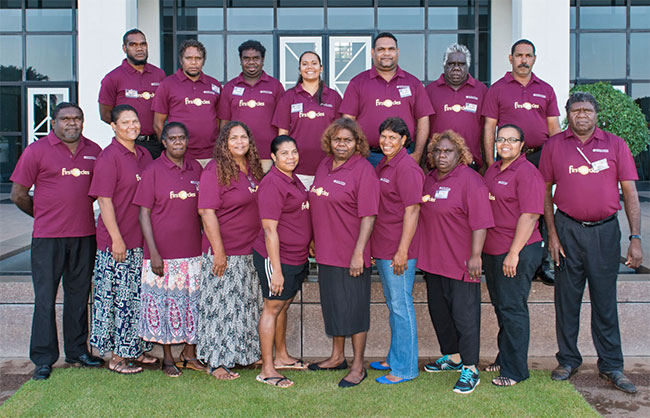 First Circles members in 2015
Current members
The Chief Minister has approved the following members for north and central Australian regions:



Northern region

Central Australian region

1

Deanne Rioli

Pirlangimpi, Tiwi Islands

Allen Punch

Wunara,Barkly

2

James Woods

Maningrida, West Arnhem

Tristan Duggie

Mungkarta, Barkly

3

Serena Bara

Angurugu, East Arnhem

Timothy Price

Tara, Barkly

4

Nesman Bara

Umbakumba, East Arnhem

Natasha Abbott

Wallace Rockhole, MacDonnell

5

Maria Pyro

Borroloola, Roper Gulf

Garrard Anderson

Papunya, MacDonnell

6

Bettina Danganbarr

Galiwinku, East Arnhem

Lisa Sharman

Titjikala, MacDonnell

7

Andrea Cameron

Timber Creek, Vic Daly

Veronica Stafford

Yuelamu, Central Desert

8

Samuel Daylight

Minyerri, Roper gulf

Adrian Dixon

Laramba, Central Desert

9

Grant Thompson

Ngukurr, Roper Gulf

Christine Joe-Kamara

Pmara Jutunta, Central Desert

10

Lorraine Bennett

Beswick, Roper Gulf

Phillip Alice

Santa Teresa, MacDonnell

11

Roland Nundhirribala

Numbulwar, Roper Gulf

Melvin Malbunka

Mount Liebig, MacDonnell

12

Nick Lynch

Wurrumiyanga, Tiwi islands

Que Kenny

Hermannsburg, MacDonnell

13

Wayne Dhurrkay

Gunyangara, East Arnhem

Robert Robertson

Yuendumu, Central Desert

14

Albena Buyanggirr

Milingimbi, East Arnhem

Anthony Petrick

Harts Range, MacDonnell

15

Aaron McTaggart

Nauiyu, Vic Daly

Ellwin Holmes

Ampilatwatja, Barkly
2014-2015 workshops and meetings
Inaugural workshop
Darwin, 9 December 2014
Alice Springs, 16 December 2014
The workshops served to introduce First Circles members to each other, and included the opportunity to learn more about their roles and responsibilities under the program.
Workshop 2
Darwin, 24 to 25 March 2015
Alice Springs, 31 March to 1 April 2015
The purpose of the two-day workshops was to learn from NT government departments about the policies, programs and services they provide to Indigenous Territorians.
The workshop also provided time for members to prepare for their Cabinet meeting on 19 May 2015.
Workshop 3 and Cabinet meeting
Darwin, 18 to 20 May 2015
All First Circles members met in Darwin for 3 days to prepare for their presentation to NT Cabinet on 19 May 2015.
First Circles members met with NT Cabinet ministers to discuss and learn more about Legislative Assembly processes.
Members delivered powerful speeches to Cabinet, some in Aboriginal languages which were translated into English with the help of interpreters from the Aboriginal Interpreter Services.
Workshop 4
Alice Springs, 18 to 21 October 2015
First Circles members attended and participated in the 7th Indigenous Economic Development (IED) Forum held in Alice Springs on 18 to 20 October 2015.
Members explored economic development opportunities, built networks and showcased their respective communities and region.
A workshop was held on 21 October 2015 following the IED Forum to review the program so far and work on ideas to improve the program.
Contact details
Phone: (08) 8951 5670
Email: oaa@nt.gov.au
Last updated: 04 August 2016